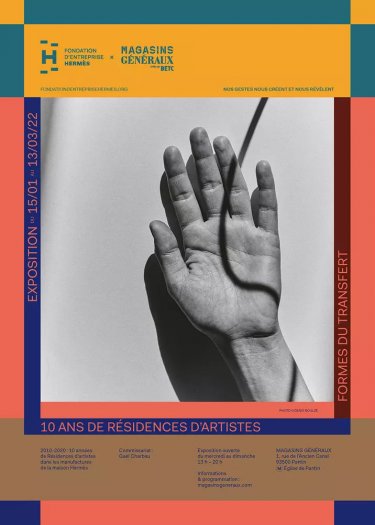 The exhibition Formes du transfert at Magasins généraux in Pantin goes back over 10 years of artists in residence organised by Hermès foundation. Since 2010 The Hermès company foundation has given free reign to these artists alongside the crafts men and women of the French luxury house Hermès. Artworks are created with materials used by the fashion house, creating a dialogue between contemporary art and crafts.
Hermès workshops and Magasins Généraux are next to each other. The two companies (BETC for Magasins Généraux) are both located in Pantine and are both well integrated into the territory.
The retrospective Formes du transfert takes place simultaneously in Seoul and Tokyo with two different parts.
Opening Friday 14th January from 7 pm to 11 pm.
Artists: Bianca Argimon, Jennifer Vinegar Avery, Marcos Avila Forero, Clarissa Baumann, Oliver Beer, Simon Boudvin, Lucia Bru, Io Burgard, Gabriele Chiari, Marine Class, Guillaume Dénervaud, Marie-Anne Franqueville, Célia Gondol, Sébastien Gouju, Sébastien Gschwind, Bérengère Hénin, DH McNabb, Enzo Mianes, Benoît Piéron, Félix Pinquier, Émilie Pitoiset, Guillaume Poulain, Chloé Quenum, Andrés Ramirez, Emmanuel Régent, Elisabeth S. Clark, Vassilis Salpistis, Olivier Sévère, Yuhsin U Chang, Oh You Kyeong, Anne-Charlotte Yver.
The exhibition is free and can be visited from 15th of January to 13th of March 2022 from Wednesday to Sunday from 1 pm to 8 pm. Health pass to be shown on entry.
Discover all free exhibitions in Paris. Don't miss the 19M founded by Chanel and their fashion workshops and exhibitions.
© Denis Boulze