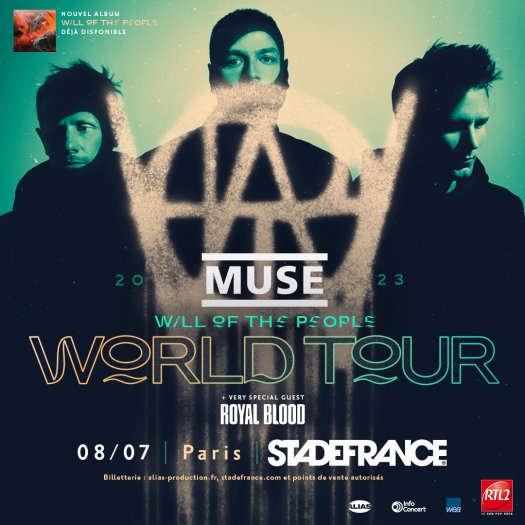 British alternative and progressive rock band Muse will return to the Stade de France in July 2023.
The band is going on a world tour for their new album Will of the people with special guest Royal Blood.
The Muse trio of Matthew Bellamy (lead singer, songwriter, guitarist and pianist of the band), Christopher Wolstenholme and Dominic Howard first appeared on the music scene in 1994. Their repertoire includes many hits from the 90's and 2000's such as Sunburn, Muscle Museum, Showbiz, Unintended, New Born, Plug in Baby or more recently Time Is Running Out.
Muse has notably given two exceptional sold-out concerts on June 16 and 17, 2007 in the Wembley Stadium, gathering nearly 200,000 people and has already triumphed at the Stade de France during past tours, in June 2010 and June 2012. The band performed in 2019 at the Stade de France offering their fans two unforgettable nights for the "Simulation Tour".
See hotels close to the Stade de France.
Buy my ticket - Muse Paris Stade de France 2023