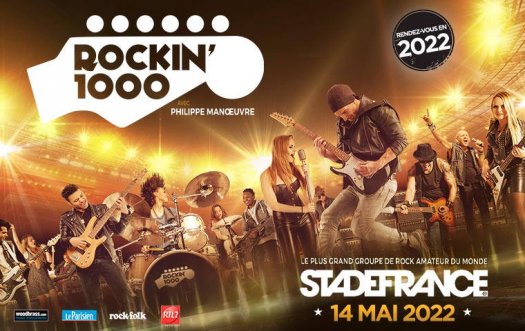 RockIn 1000 is coming back in July 2021 to the Stade de France. This event is organized for rocker fans who want to play, to sing typical rock music numbers in this mythical place.
The point of this meeting is to bring together on the same stage an ephemeral group of 1000 people, all rock fans. It is a great casting moment which is being prepared right now to gather these 1000 musicians, singers (250 drummers, 300 guitarists, 200 bassists and 250 singers) . You are guarrantied two hours of fantastic music with great titles from the most famous rock bands or singers.
Philippe Manœuvre is back to pilot this second edition !
To be "on stage" make yourself known via the website www.rockin1000.com
To be a spectator of this great show, reserve your place via the "Book now" button below.
Don't forget to book your hotel room near the Stade as soon as possible! Whether you are coming from Paris Lyon, Montparnasse or Gare du Nord train stations, transport is easily accessible and you can book your hotel in the centre of Paris at Châtelet (these 2 RER trains drop you off at the Stade de France station).
Tip: take the metro or train to get to the Stade de France.
Buy my ticket for Rock'In 1000 Paris