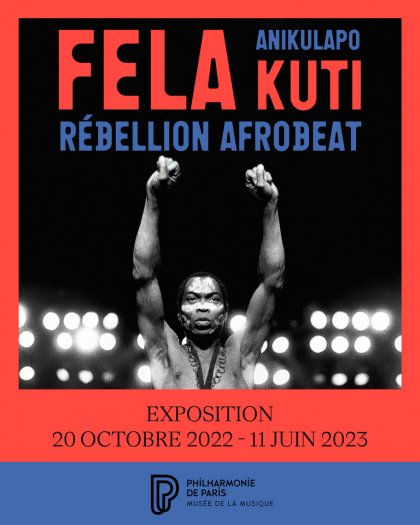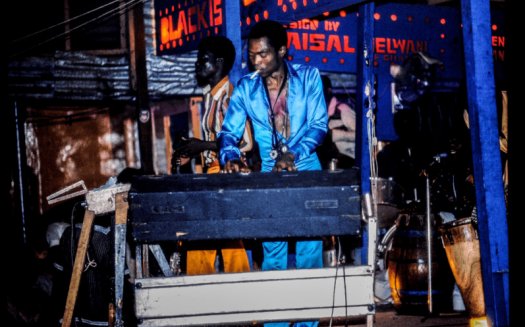 The Musée de la Musique in Paris La Villette pays tribute to Fela Kuti with a monographic exhibition of the musician who created Afrobeat.
Fela Anikulapo-Kuti was born in Nigeria in 1938. The "Black President" had an important influence both musically and politically throughout his career from the late 1970s to his death in 1997.
The exhibition looks back at the creation and evolution of Afrobeat, a style that blends several influences: free jazz, soul, funk, Yoruba rhythms... Fela Kuti started with the Koola Lobitos formation which put forward the brass and the percussions. Fela went on to play in the Afrika 70 and Egypt 80 bands, which featured a larger number of musicians and increasingly complex symphonic compositions.
Fela Kuti has always expressed his convictions by denouncing the corruption of the elites and neo-colonialism. His political heritage comes from the pan-Africanism of Malcolm X, Kwame Nkrumah and Cheikh Anta Diop, but also from his mother Funmilayo Ransome-Kuti, a feminist and anti-colonial activist. The exhibition presents archives, works and testimonies on the political positions and controversial lifestyle that earned this sulphurous character trouble with the law and incarceration, but which still continue to fuel struggles in Nigeria and other countries.
The Fela Kuti exhibition at the Cité de la Musique will immerse you in the atmosphere of the musician's mythical concerts with the help of projections and the discovery of record sleeves and stage costumes. On the great international stages and at the Afrika Shrine, his club in Lagos, Fela's concerts, his musicians and dancers have left an indelible impression on the audience, between hypnotic rhythms, political harangues and ritual performances.
The Philharmonie de Paris offers a special program of concerts around Fela Kuti with Femi Kuti, Seun Kuti, Tony Allen, Oumou Sangaré, Sébastien Tellier, Cheick Tidiane Seck, Angélique Kidjo... Two shows will also be programmed: a piece by Qudus Onikeku with ten young dancers and the piece Kalakuta Republik by Burkinabe choreographer Serge Aimé Coulibaly.
Discover the world music scenes in Paris and the jazz and blues venues.