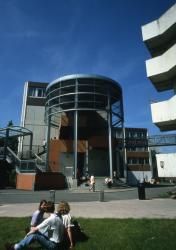 Founded at the end of the 60s, University Paris 8 first set up in Vincennes.
Since its creation, this faculty has prided itself as an experimental academic centre : it strives to develop the relationship between students and teachers with a main focus on establishing real collaboration, notably opening up to the wider world giving access to foreign students or undergraduates.

University Paris VIII willingly innovates through the courses that it proposes : department of psychoanalysis, art, theatre and cinema are examples of some of the courses that have been set up.

Finally, this faculty distinguishes itself from others today in the way that it carries out its pedagogical approach : no class takes place in the lecture hall, all teachers are treated on the same level no matter what their status, the six-monthly UV system (credit points) has been introduced…
The university moved to Saint-Denis in 1980

In 1980, Paris 8 University was set up in Saint-Denis. It has also got two other sites : An IUT (University institutes of technology) located in Montreuil and another in Tremblay. It accommodates more than 26,000 students enroled in Training and Research Departments (8 UFR) and Institutes (IUT- institute of technology, Institut Français d'Urbanisme - French institute of urbanism , Institut d'études Européenne - Institute of European studies…).
Throughout its history and expansion, the experimental character of this faculty has, little by little, levelled off to provide a more academic and visionary organisation of its teachings. Nevertheless, University Paris 8 has managed to maintain its courses in philosophy, art, geography, the arts at a high level, while at the same time conserving its innovative spirit offering courses in Feminist studies, regional or unusual foreign languages (Breton, Basque, Berber, Quechua…).
University Paris 8 Vincennes - Saint-Denis and Université Paris 13 take part in the Campus Condorcet project.
The library of Paris 8
The library of Paris 8 was designed by the architect Pierre Riboulet in who is a great figure of urbanism for public buildings and especially education ones (French institute of urbanism, the economical sciences department of Paris XII, the Lycée Le Corbusier…). It was inaugurated in 1998.
By the way, guided visits, exhibitions and events are often organized in the library.
It offers a great diversity of medias and spaces: books, magazines, videos, audios, thesis, ebooks, meeting rooms for students and teachers, computers…Every adult or person that has baccalauréat can come and consult a document free of charge and all the inhabitants of Ile-De-France can borrow documents.
The library also proposes numerous activities of discussions in French for students who have difficulty and discussions in foreign languages for people who wish to learn a new dialect.
It is accessible for people who have a handicap or reduced mobility and there is a special room for people who have visual problems.
Check the timetable of the library on its internet site.
Training programmes in University Paris 8
University Paris 8 counts 11 UFR training and research departments, 5 institutes (including 2 technology institutes), 70 master's programmes for 36 master degrees, 19 bachelor degrees, 13 professional degrees, 6 DUT – degree in technology, 25 DU – University degree and 75 phD.
6 areas of training are proposed : Art, Law, Economics and management, humanities, science, technology and health, Culture and communication, Arts and languages.
University Paris 8 : Registration and practical information
You are interested in signing up for one of the courses in University Paris 8 ? You will find all the information you need on the Paris VIII University internet site. The FAQ section helps cover all aspects : application to a master's degree, foreign student registration, re-enrolment, etc. You could also go directly to the main site located in Saint-Denis, on line 13 of the underground station St-Denis Université, on the tramway (line 1 : station Marché de St-Denis ; line 5, station Guynemer). University paris 8 can also be reached by train and RER : Gare de St-Denis, from Paris-Nord or RER D. The 255 bus assures transport from all these different methods of transport to the station St-Denis Université.
Book a hotel room close to University Paris 8.
There are several options open to you if you need to find a hotel within proximity of University Paris 8, whether it be to register for the beginning of term, attend a conference, sit an exam or pass an interview. It is practical to stay close to line T8 of the tramway. You can also book a budget hotel near the gare du nord or beside the RER D and have direct access to the trains that will take you to Saint-Denis.