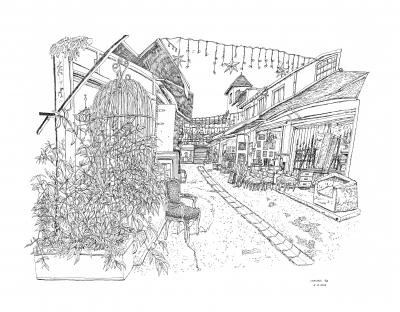 Discover the Indian ink drawings made by Christelle Téa at the Saint-Ouen fleamarket in the Paul Bert Serpette alleys. The artist spent almost a year there to sketch the particular atmosphere of this market. About 40 drawing are exposed int the alleys of Paul Bert Serpette from 14th May to 13rd June 2022.
After graduating in Visual Communication at the school Olivier de Serre in Paris, Christelle Téa obtained the Diplôme National Supérieur d'Arts Plastiques de l'École Nationale Supérieure des Beaux-Arts de Paris in 2015. She exhibited drawings of singers and musicians of the Orchestre National de l'Opéra de Paris in the media library of Opéra Bastille in May 2012. In 2014, she studied six month at Beijing fine arts school where she made spontaneous drawings of the city and its living places such as museums or markets. She has participated in many residencies in various countries. She now devotes her time to making drawings on the spot with no preparation and no correction directly with Indian ink.
This exhibition is organised by the Rage Gallery (Stall 23 – Alley 1 in Serpette) held by two antique dealers passionate about drawings, Eloïse Poirson et Emmanuel Roucher, who will be able to inform you on the drawings and the artist.
Discover the different St-Ouen flea markets and take advantage of this pleasant outing to browse through the different specialised stalls. Art lovers will appreciate particularly the art stands.