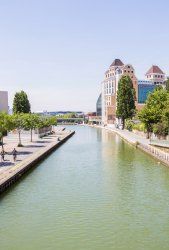 The department of Seine-Saint-Denis (France) has strong links with water – the department even possesses a sea ! This affirmation may surprise, but the stakes of tourism, environment, health and urban planning are important. Massive urbanization of this territory in the suburb of Paris transformed the face of water in the 93 department. Dive into the history of water in Seine-Saint-Denis…
Flood management
The territory was covered in many wetlands, swamps and streams. La Plaine de France – an area which extends to the northeast of Seine-Saint-Denis and to the the east of Val-d'Oise – is a Lowlands region (hence its name !) and water management is essential to prevent flooding by sewerage and rain water. To prevent flooding, automated management centres monitor certain areas. The site of Rosny, which checks on the sewage and rainwater network can be visited. Stade de France conceals a rain water storage tank.
Paris water supply
You can see in Pré Saint-Gervais, les Lilas, and in the North-East of Paris, several listed manholes. The Parisians, and notably the religious members of the monastery of Saint-Lazare, had taken strong ownership of the abundant ground water sources of Pré Saint-Gervais. These manholes were part of one of the two aqueducts constructed in the Gallo-Roman era to supply Paris with water. The Trou Morin manhole can be visited during Heritage Days.
East Paris canals: industrial heritage and renewal
Two canals extend Canal Saint-Martin : Canal de l'Ourcq and Canal Saint-Denis. These canals, commissioned by Napoléon, served for human and merchandise transport. Factories were implanted on its banks.
The Paris canals and its suburbs had been leisure marinas for balls and guinguettes which livened up its banks. Today, the guinguette spirit comes alive again every summer on the banks of Canal de l'Ourcq. Many new companies have settled back on its banks. The canals offer leisure spaces, you can ramble along the banks with your family, enjoy a ride along the Green paths or just go for a cruise.
Lost rivers in Seine-Saint-Denis
La Morée is a former rivulet, the RU, in the north of the 93 department which had been completely buried as part of water management. La Morée crosses one of the runways of Le Bourget airport! It is completely under the tarmac. Some local elected members of the General Council would like to see the RU reappear to embellish the town. It is also question that the river bed start at the level of Parc de la Courneuve.
Discover the sea "Vieille mer" in Seine-Saint-Denis
The rivulet «la Vieille Mer », takes its source in Dugny, crosses the La Courneuve park, goes as far as Saint-Denis and flows into the Seine river at the level of Canal Saint-Denis. In the fifties, this small stream was progressively canalised and transformed into a sewer. The Vieille Mer was the result of an overflow of four major streams in Plaine de France : La Morée, le Sausset, Le Croult and le Petit Rosne.
Discover our cruises and visits around water ! Including all nautical activities on offer in Seine-Saint-Denis (canoë-kayak, cruises, zodiac, etc.)