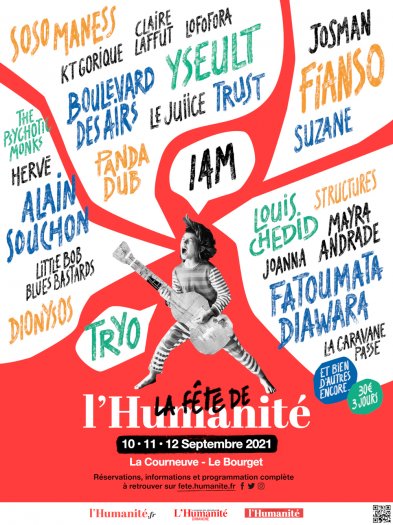 The Fête de L'humanité festival is a three-day festival devoted to politics, concerts and musicians coming to share the greatness of their music and expression. Come and enjoy some french tasty food and walk around the booths!
2021 - the Huma Festival
The Fête de l'Humanité festival is also an opportunity to socialize with the locals, to take part in some political or world-friendly debates on social issues in the midst of fairs, village markets and music shows. One of the best parts of this 3-day event is to listen to some great musicians and their music.
Program of the 2021 edition
Still waiting for the programme
Where to sleep during the Fête de l'Humanité ?
Choose a hotel near the festival or choose one in the proximity of Parc Georges Valbon. Some hotels located near the Parisian subway line will be very practical to join in the fun. On-site temporary camping arrangement: During the festival, book a place in the temporary camping site set up in the proximity of the festival especially for the occasion. No worries for minivan travelers, minivan owners are advised to use only designated trailer parks in tourists areas such as camping de la Haute-Ile at Neuilly-sur-Marne.
Practical access information
Accessibility information for visitors to La Courneuve Park during the Fête de L'Humanité, including information for car park facilities. Free shuttle transport have been dismissed for the Fête de l'Humanité.
Take the RER B Line to Le Bourget Station and then commute with the Tramway T11 (Stop at Dugny-La Courneuve).
If you are driving to the festival, there is a paid car park arrangement on the grounds of the Fête de l'Humanité. It is recommended to make your parking reservation arrangement before arriving on the site of the festival.