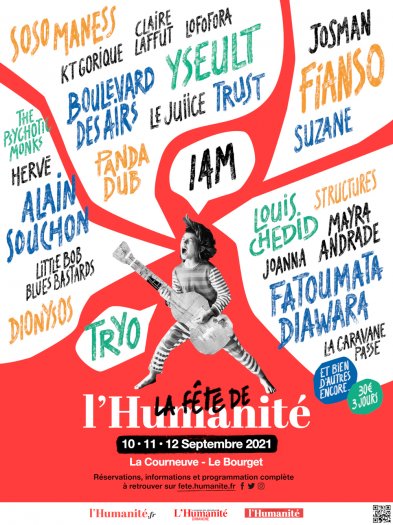 Forced to move because of the preparation of the 2024 Olympic Games, the Fête de l'Huma will take up residence from September 2022 in Essonne, on the former air base 217, located in the commune of Plessis-Pâté (91220) on the D19 near Brétigny.
The dates 2023: Friday 15, Saturday 16 and Sunday 17 September 2023.
The announced artists: in waiting
Remember to reserve your tickets!
How to go to the Fête de l'Huma Plessis-Pâté/Bretigny ? Line C of the RER,...
The event will take place at Le Plessis-Pâté airbase which is located at 30 minutes walk from Brétigny station (zone 5). A pedestrian route should be marked to allow pedestrians to make the trip. Bus shuttles between the Brétigny train station and the event site will be organized by the festival organizer. A special pick-up system will also be set up at the Brétigny train station. You can see your itinerary and timetable on the Transilien website.
---
The Fête de L'humanité festival is a three-day festival devoted to politics, concerts and musicians coming to share the greatness of their music and expression. Come and enjoy some french tasty food and walk around the booths!
2021 - the Huma Festival
The Fête de l'Humanité festival is also an opportunity to socialize with the locals, to take part in some political or world-friendly debates on social issues in the midst of fairs, village markets and music shows. One of the best parts of this 3-day event is to listen to some great musicians and their music.
Program of the 2021 edition
Still waiting for the programme
Where to sleep during the Fête de l'Humanité ?
2021 - Choose a hotel near the festival or choose one in the proximity of Parc Georges Valbon. Some hotels located near the Parisian subway line will be very practical to join in the fun. On-site temporary camping arrangement: During the festival, book a place in the temporary camping site set up in the proximity of the festival especially for the occasion. No worries for minivan travelers, minivan owners are advised to use only designated trailer parks in tourists areas such as camping de la Haute-Ile at Neuilly-sur-Marne.
Practical access information - 2021
Accessibility information for visitors to La Courneuve Park during the Fête de L'Humanité, including information for car park facilities. Free shuttle transport have been dismissed for the Fête de l'Humanité.
Take the RER B Line to Le Bourget Station and then commute with the Tramway T11 (Stop at Dugny-La Courneuve).
If you are driving to the festival, there is a paid car park arrangement on the grounds of the Fête de l'Humanité. It is recommended to make your parking reservation arrangement before arriving on the site of the festival.