The name of Drancy is known all over France as the theatre for Hitler's atrocities. It is now a major town that the people of Drancy have managed to make lively and welcoming.
The origin of the name comes from Terentiacum, a rural area owned by Terencius to become known as Derentiacum and then Drancy in French. History has left a painful scar in Drancy.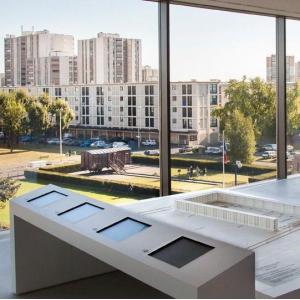 Drancy Deportation Camp and Shoah memorial
Sunday 24th September 2023 (and 12 other dates)
Drancy camp and the Shoah Memorial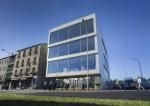 Cité de la Muette, was a housing complex under construction which was brutally transformed into the Shoah anteroom, the Internment Camp. It was on August, 20, 1941 and lasted for three years. French collaborators did their dirty work alongside the Nazis. Drancy Shoah memorial monument: The Memorial camp, the railway car-memorial museum, street and school names are a permanent reminder of that bleak period. In 2012, the Shoah Memorial building was inaugurated in Drancy opposite the historical housing estate Cité de La Muette. It is a place devoted to history and memory of this Drancy camp that be visited all year long.
However the town of Drancy holds many attractions that are often ignored. We may read about the presence of humans since Neolitic times but the first texts on the city date from the eleventh century. In the Middles Ages, a small village, a seigneury already existed and was the property of the Seguier family. Vestiges of a "mound" on which stood a feudal castle defense tower can still be seen in Jacques Duclos Park. It is in this beautifully tree-lined wood that the façade of the castle of the nineteenth century built by Baron Ladoucette can be seen along with the Mausoleum of the Baroness and their daughter.
Religious heritage and visit of Garden-City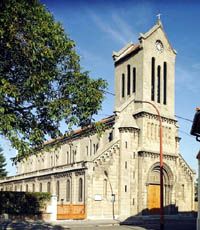 Important development of the railway network is at the origin of the explosion of the population in the city. Three churches were built in the early thirties; two of them in brick: Saint-Jean L'Evangéliste church in the north of the town and the church Sainte-Louise de Marillac in the center. However the church Saint Louis du Progrès in the "quartier de l'Economie"(Economy quarters) was built out of reinforced concrete, a revolutionary material at that time. The first living quarters for railway workers was a garden city of small suburban houses made of brick or roughcast, tiled roofs with adjoining little gardens. The second railway workers quarter was built, this time very different, to the square blocks of yellow bricks and roof-terraces. These two cities are an important part of the city center.
Do not leave the town without a visit to Drancy Cultural center located near Ladoucette castle in la Doucette Park where temporary exhibitions are regularly held.
Practical information in Drancy
Where to sleep in Drancy: find a hotel in or around Drancy
Visit the official website of the city
Visits in and around Drancy
Not-to-be-missed walking tours in Drancy, Bobigny, Pantin, Aubervilliers, Blanc Mesnil, Le Bourget…