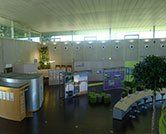 The Roissy Charles-de-Gaulle airport is located next to Maison de l'Environnement et du développement durable (House of Environment and Sustainable Development), as are all Paris airports.
Both a welcome and information center, the Maison de l'Environnement receives all curious visitors and provide them information concerning activities put in place by Aéroports de Paris.
Exhibition dedicated to the airport
The Maison de l'Environnement (6460 sq ft) offers an interactive exhibition dedicated to the history of the airport, to air travel and a documentation area. Visitors can get information about the airport environment policy, economy, employment, jobs, training courses, soundproofing… several movies are also available to watch for free.
The Maisons de l'Environnement also host the Commissions Consultatives d'Aide aux Riverains (consultative committee for residents).
The laboratory of Aéroports de Paris has three missions :
External inspection of suppliers and service provider
Internal inspection : observation of the estate
Environmental observation of aeronautic activity
Where to sleep next to the Roissy Charles-de-Gaulle airport?
If you are looking for an accommodation for your stay next to the Roissy CDG airport, you can consult our list of hotels here.