May 1st is a national public holiday and the celebration of spring. It is also called Labour Day "la fête du travail in French", spring and lily-of-the-valley. It also means time-off and a day when everything is closed… or almost! Here are some ideas of activities to do on this day-off near Paris.
Museums and exhibitions open on May 1st 

The Air and Space museum at Le Bourget is open on May 1st. It is an opportunity to discover the secrets of aviation. Admission to the permanent collection is free. Prepaid-pass and tickets are available for activities such as : Planète Pilote, aircraft simulation: airplanes and planetarium. Here is why the museum is a must-see!
Stroll around jumble-sales, fairs and flea markets in Seine-Saint-Denis
Wandering through « Vide-Greniers » (which literally means "emptying out the attics") or fairs and large jumble sales is a must-do event! Come to browse, bargain and find great objects. Antiques in flea markets, second-hand articles in jumble sales, rare finds for collectors, you will find all sorts of merchandise, from kids clothes to bikes including kitchen utensils…
Don't forget: the Paris Saint-Ouen flea market is closed from Tuesday to Friday included.
Cinemas open on May 1st 
Most of the cinemas in Seine-Saint-Denis are open on the first of May. Browse through the list of cinemas open in Seine Saint Denis. 
Swimming pools open on May 1st in the North-east of Paris
Most of the swimming pools in Ile-de-France are closed on the May 1st. In Northeastern Paris, Pailleron swimming pool in the 19th arrondissement and Georges Vallerey swimming pool at Porte des Lilas in the 20th arrondissement are open.
Picnics and strolls on May 1st in the parks in Seine-Saint-Denis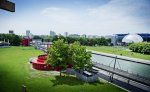 May 1st is the chance to picnic and stroll  in one of the parks in Seine Saint Denis. Parc de la Villette is open 24 hours a day. If the weather is fine, you can go for a picnic, play football or simply sunbathe on the lawn near the sculpture of the buried bicycle or the submarine. On the 1st May, the garden « jardin du dragon », games for children and the merry-go-round are accessible.
See other activities or sites to visit on a bank holiday and suggestions of things to do in Paris in May.
Don't hesitate to check our "what to do in Paris today?" page to see what you can do in a glance on this bank holiday. You can also check our "what to do in Paris tomorrow?"  page to plan you day ahead.