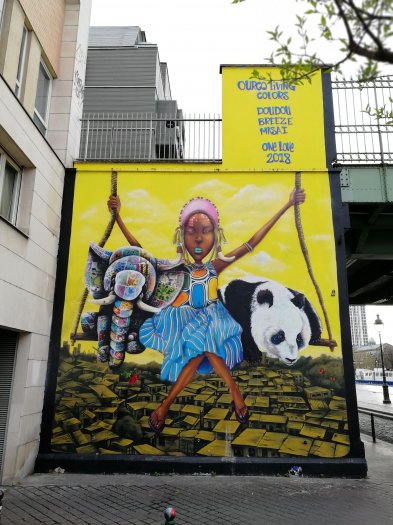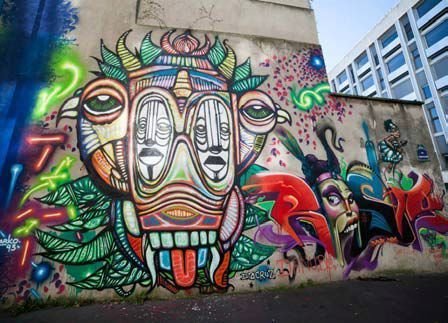 Ourcq Living Colors is a street-art festival that has been taking place in the 19th arrondissement of Paris, more precisely in the Ourcq district, for 12 years. It is organized by the collective Cultures Pas Sages. Supported by the graffiti artist dAcRuZ, this association aims to tighten the social fabric of this multicultural neighborhood in constant movement by organizing collaborative cultural events.
There will be no Ourcq Living Colors Festival in 2022.
The Ourcq Living Colors walks (French)
Artists are invited to collaborate on a work in groups of two or three and have 24 hours to decide on the piece they will create during the weekend.
The graffs and frescoes made during this street art festival, which brings together internationally known artists, remain after the festival and are covered during the next edition.
The 2021 edition of Ourcq Living Colors paid tribute to Batsh who died in 2020.
Some artists who attended the Ourcq Living Color through the years : Batsh, Beerens, DaCruz, Doudou Style, FKDL, Kaldéa, Lask, Louis Masai, Sitou, Vinie, Yellow...
Program of Ourcq Living Colors 2021 :
Last year, during the Ourcq Living Colors Festival 12 artists came to paint at the level of the Ourcq canal to replace the works of the 2019 edition, located under the bridge at 26 quai de la Marne. The street artist dAcRuZ created a giant fresco at 55 rue de l'Ourcq with the surfer illustrator AJ dungo (USA) in partnership with the US embassy.
The Ourcq district is close to the bassin de la Villette and the canal de l'Ourcq. See our pages dedicated to the street art itinerary along the canal and to street art in the 93.