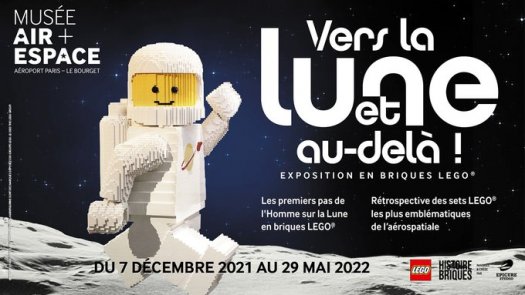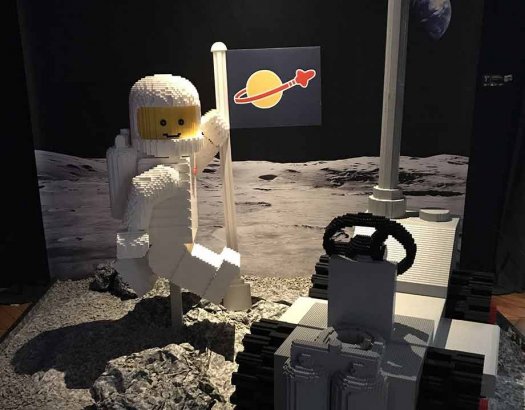 Relive the great moments of the aeronautical and space conquest of the first steps on the Moon built out of... LEGO® bricks! It took no less than 180,000 LEGO® bricks and 1200 hours to create this fun and original exhibition.
The conquest of space in LEGO
The exhibition is divided into three parts: the history of aeronautics and space, the conquest of the moon and aerospace in fiction.
You will be able to see among the works proposed during the LEGO exhibition at the Air and Space Museum: a human-sized astronaut, the Saturn V rocket of the Apollo missions, the Concorde, The Little Prince by Antoine de Saint-Exupéry.
The exhibition is open from Tuesday to Sunday – 10am to 5pm
LEGO workshops
You will be able to take part in fun construction workshops with LEGO bricks around the theme of the conquest of space. 6 different workshops are proposed:
Observation and deduction games (TEKI®, DUPLIKTOU® and FOJUMO®): recognize the great characters of aeronautical and space history in LEGO® bricks, build an object from the museum's collection and identify the structure that contains errors, Memory game around the history of the museum.
Pixel Art LEGO® expression wall: reproduce models from the museum or invent some.
My first constructions with LEGO® and DUPLO® bricks workshops for children over 2 years old accompanied by their parents. 2 workshops to choose from: free construction or from models.
LEGO workshops are open on Wednesdays, Saturdays, Sundays, every day during school vacations and on public holidays.
Book my ticket Lego exhibition