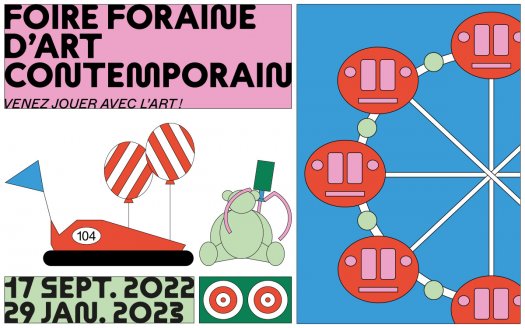 This autumn the CENTQUATRE-PARIS turns into an artistic amusement park with the Contemporary Art Fair. More than an exhibition, the Contemporary Art Fair offers fairground attractions with thrills, dexterity skill, cotton candy, ghost train, ice palace, cabinets of curiosities, arcade games...
The CENTQUATRE-PARIS called about forty artists from around the world. This artistic, visual, sound, olfactory and gustatory journey invites you to interact with the exposed works.
Artists : Pilar Albarracín, Pierre Ardouvin, Véronique Béland, Serge Bloch, Lilian Bourgeat, Yoann Bourgeois, La Briche Foraine, Berlinde de Bruyckere, Canon Ball, Compagnie 14:20, Martin Creed, Jacob Dahlgren, Hervé Di Rosa, Encoreunestp, ENTER.black, Leandro Erlich, Les Fondeurs de Roue, Sylvia Fredriksson, Loris Gréaud, Groland, Subodh Gupta, Invader, Julio Le Parc, Albertine Meunier, ORLAN, Peybak, Delphine Reist, Julien Salaud, Pascale Marthine Tayou, Julien Vidame, Filipe Vilas-Boas, Winshluss, Virginie Yassef...
The contemporary art fair on Saturday, September 17th, 2022 (Heritage Day) from 2:00 pm to 10:00 pm.
Opening hours: Wednesday to Sunday from 2:00 pm to 7:00 pm // Tuesday to Sunday from 2:00 pm to 7:00 pm during school vacations.
Holidays: closed on December 25th and January 1st, open on November 1st and 11th.
To access the exhibition and attractions you need tokens. 1 ticket = 20 tokens. Keep your ticket if you plan on coming back to the fair, you'll be able to buy refills of tokens (pack 4 tokens from 1 to 3 €; pack 8 tokens from 3 to 6 €.)
New attractions will open on December 17. Some attractions are not suitable for children or people with epilepsy.