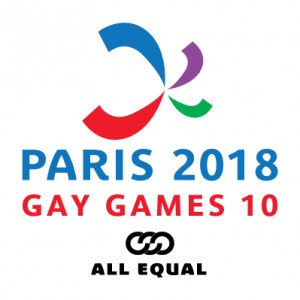 While waiting for the 2024 Olympic Games in Paris to begin, the capital will be the playing field for the Gay Games 10 in 2018. The opening ceremony for the games will take place at the Jean Bouin stadium in Paris on August 4th 2018 (Subway line 9: Michel Ange Molitor station).
Next GAY GAMES 11 coming to Hong Kong in 2022.
Gay Games 2018 in Paris and the Ile-de-France region
This world games meeting will take place over ten or so days throughout the various Parisian sports sites including other cultural and festival venues. More than 30 sports events are planned, entertainment sports… around 70 countries will be represented!
August 6th to 9th 2018: diving competition in Montreuil
This competition will be organised at the Maurice Thorez watersports stadium, in Montreuil (easily accessible by subway line 9: Croix de Chavaux station). The pool is currently closed to the public but will be exceptionally open for the competition. Admission is free depending on the number of places available.
2018 Gay Games in Paris 19th & 20th arrondissements
August 10th 2018: the famous Pink Flamingos will perform an aquatic show at Georges Vallerey pool at Porte des Lilas in the 20th arrondissement of Paris. Swimming and water polo competitions will also be held at Georges Vallerey pool.
1 p.m. - water polo final (leisure activity) / 1:50 p.m. - water polo female show / 1:20 p.m. - water polo final (competition) / 3:30 p.m. - synchronized swimming show / 3:45 p.m. - Pink Flamingo show / 4:45 p.m. - closing show.
Participating sports at the games 2018
Aquatics – Diving, Aquatics – Open Water, Aquatics – Swimming, Aquitics – synchronised swimming, Aquatics – Water Polo, Athletics – 5 km & 10 km, Semi-marathon & Marathon, Athletics – Track and Field, Badminton, Basketball, Beach Volley, Bowling, Boxing, Cycling – Mountain bike, Cycling – Road, Sport Dance, Escrime, Field Hockey, Figure skating, Football, Golf, Handball, Judo, Ice Hockey, Martial Arts, Pétanque, Pink Flamingo, Roller Derby, Roller Course, Rowing, Rugby sevens, Sailing, Softball, Squash, Table Tennis, Tennis, Triathlon, Urban Danse, Volley-Ball, Wrestling.
Gay Games 2018 village
The village will be set up in front of the Paris Town hall (4th arrondissement – subway lines 1 and 11 – Hôtel de Ville station). There will be a large playground set up where both children and adults can try out the different sports. Opening hours will go from 10 a.m. to 6 p.m. daily with beginner sessions, sports demonstrations for people with disabilities, etc. Between 6 p.m. and 11 p.m. time for concerts, DJ…
Closing games ceremony Paris 2018
August 11th 2018 - Closing ceremy will be held at the Hotel de Paris, transfer of the flame to the future host city (Hong Kong). The event is open only for Gay Games participants.
The final and closing evening will take place at the Docks de Paris in the 19th arrondissement of Paris.
Book a hotel room in Paris during the Gay Games 2018
Book your hotel room as quickly as possible in Paris or close to a RER or subway line in the Parisian surburbs.