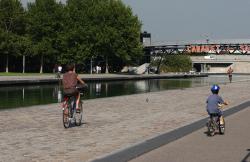 The North East suburbs of Paris are definitely the uttermost suburbs to incorporate Le Grand Paris thanks to its greenery projects. You can find there as many paved park roads than unpaved administrative roads open to the public. Seine-Saint-Denis has also the advantage of having plentiful of acres of park and forests and canals as well as little patches of land where citizens can grow their own vegetables. This part of Paris's area illustrates perfectly the french healthy culture based on sport and nature.
There are bicycle routes and tracks all along the waterways which link urban, suburban and rural areas of the Ile-de-France territories with a variety of appropriate cycling facilities. Some of the towpaths and certain trails have been specifically designed for off-road bicycle use along the waterways. There are several cycle paths through the La Courneuve Park and some bike trails run along waterways like Canal de l'Ourcq and Canal Saint-Denis.
Separate bicycle lanes have been built all along the banks of the Canal de l'Ourcq. Take your bicycle, rollerblades, and skates or rent a vélib (the Parisian cycle location) and go for a planned hassle-free cycling touring day with your family or friends. Since 2014 you can even rent a "p'tit vélib" for children aged from 2 to 8 so don't hesitate longer and hop on your bike!
Be careful: Over weekends the path can be incredibly crowded, as the park is shared with scores of pedestrians and dog walkers.
Bike location
Rent point near the Canal de l'Ourcq - 38 bis quai de la Marne (19th)- AICV - Telephone: 01 43 43 40 74
To rent all type of bikes for adults and children:
During winter:  openings from Tuesday to Saturday between 10 am and 5 pm (1st of November - spring)
During summer: openings from Tuesday to Sunday between 10 am and 6 pm (closed on rainy Sundays)
During school holidays: Every day between 10 am and 6 pm
Cost (2016): 4-5¤ for one hour and about 10¤ for half a day and 15-18¤ for a day (you need your ID and a guarantee cheque of 150¤ per bike)
Exemple of cycle trail itineraries
Itinerary 1: Discover the cycle trail along Canal de l'Ourcq, from Paris to the rural Poudrerie park
30 km - 18 miles (round trip) / 4h
Itinerary 2: Bucolic rural ride along Canal de l'Ourcq, from park de la Poudrerie to Claye-Souilly
25 km - 15 miles / 4h
Itinerary 3: Bucolic and rural ride along Canal Saint Denis, from Paris-la Villette to stade de France
8.5 km 5 miles / 50 min 
Itinerary 4: Discover the cycle trail via Marne's guinguettes, from Noisy-le-Grand to Joinville le Pont
18 km - 11 miles / 2h
10 more Paris region cycling tours
Vike ride on your tours in Parc de La Courneuve
Distance: 10 km - 6 miles
Duration: 1h
Useful and practical information: 10 km of cycle trail crisscross the bucolic scenery of Georges Valbon La Courneuve Park.
Bicycle trail tours can begin right from the entrance of the park. "La Maison du Parc" the park administration on-site office provides the best bike rental services. Planning your family trip or solo trip, use the park bike rental service to rent the appropriate bicycle for you, your friends and families. Couples can choose to ride a tandem bicycle and families can order small Quad-cycle for four or large and very large Quad-cycle from six to eight people. It is the fastest and easiest fun way to see this most beautiful park and explore the bucolic scenery along the waterways too.
Paris-Londres: a cycle track-styled-haven to bike-addicts!

Welcome to the exciting Bicycle trail which links Paris to London!
The Paris London trail called "Avenue verte London-Paris" is a must-do in the list of bike-addict trails for great exercise, beautiful scenery and an unforgettable experience. Choose the trail-track to ride downtown to enjoy the urban city bicycle experience. 
Do not miss the scenic surroundings beauty and elegance of the medieval town of Saint Denis. France, the country of "Tour de France" called the bicycle "la petite reine" meaning "the little queen" so why not combine a visit to the city of kings and sports kings and queens with your bicycle "la petite reine". Stop for a visit at the first gothic cathedral where most of the French Kings and Queens' dynasties are buried.
A few kilometres' ride away, visit the great French stadium which hosts the greatest sports and musical events where over one a half million spectators stood cheering and hero-worshipping, a sort of icon cult for sportsmen, singers and great men.
Visit the Avenue Verte London-Paris website for your road biking and itinerary routes information to make the most of your cycling day.
Consult our list of hotels and youth hostels that welcome bike riders and their vehicules.