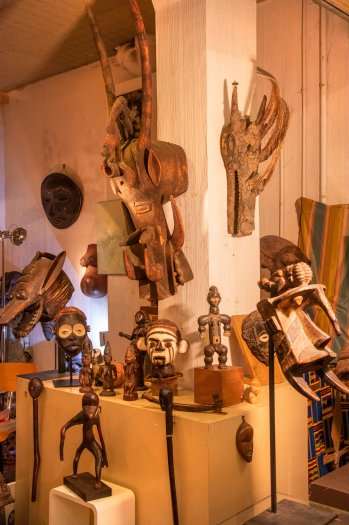 Archaeology and ancient civilizations enthusiasts will be pleased to visit both specialized and general stalls at the Paris Saint-Ouen fleamarket. Discover all you have to know before you buy an archaelogy object.
What archaeology objects at the Flea Market?
In Paris fleamarket, you will find archaelogy objects from Greece, Egypt, Rome, Mesopotamia, etc. You can also find copies of objects inspired by Antiques. The fashion around Antiquity appeared during the Renaissance with the beginning of archaelogical findings.
Archaelogical pieces can be art objects such as sculptures, statues, paintings but also everyday objects jewellery, ceramics, oillights. You can find Etruscan terracotta vases, lecithes (vases for perfumed oils), ceramic craters, votive statuettes...
Rules and Regulations of the archaeology market
To combat the looting of archaeology sites, the sale of archaeology finds is highly regulated. Dealers in archaeology artefacts must guarantee the authenticity of the pieces. In addition to their own expertise, they generally surround themselves with scientific laboratories to date the pieces and with researchers and museum curators. For all types of objects, precautions should be taken before buying an object at the Flea Market.
Archaeology stalls at the Puces de St-Ouen
There are several stands specialised in archaeology at the Saint-Ouen Flea Market, but general antique dealers also offer archaeology objects.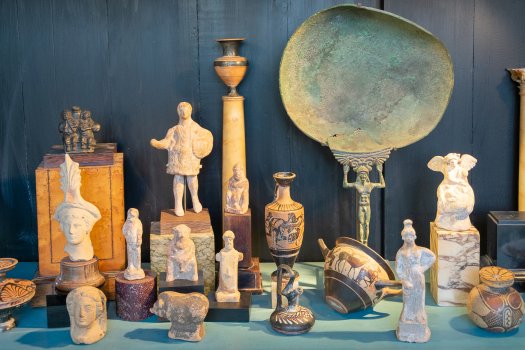 Galerie Keramion, Serpette market © Stéphane Asseline
Marta Bryl's Keramion gallery (stand 9 aisle 1 Marché Serpette) specialises in archaeology objects, and more particularly in ancient Greek ceramics. It also sells statuettes and sculptures, as well as art objects and curiosities. Among these findings of classical archaeology, the Keramion gallery also offers Greek, Etruscan and Roman archaeological objects.
Edward Klejman (stand 21 aisle 1, Serpette market) offers African and primitive art objects.
Marie Margaux Cohen (stand 127A aisle 2, Vernaison market) is a specialist in archaeological objects from Greece, Rome, Egypt, Mesopotamia, the High Period and pre-Columbian art.
Discover on the same theme archaeology sites in the 93 department. If you like archeology and learning about ancient civilization do not miss the exhibition about the pharaoh Ramses at La Villette.