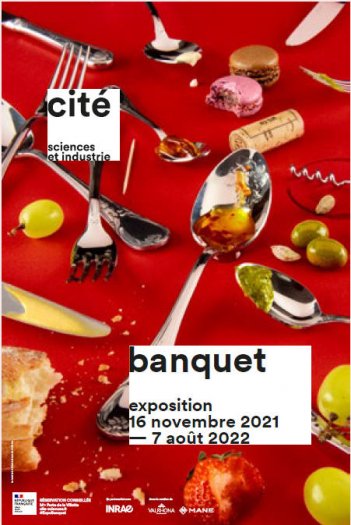 This exhibition on the theme dear to the gourmets-gourmands has been created with the complicity of the chef Thierry Marx and scientists. The exhibition "Banquet" is presented as we celebrate the eleventh anniversary of French gastronomic listed on the intangible cultural heritage of humanity by UNESCO (United Nations Educational, Scientific and Cultural Organization). Indeed, French gastronomy is a heritage that must be preserved, pampered and constantly nourished.
The exhibition offers a sensory journey in three parts: cooking, tasting and table manners.
Cooking
Become an apprentice cook to learn culinary techniques and skills: handling utensils, different cooking methods, preparing dishes, listening to chefs talk about their signature dish, etc. This space is organized around nine stands.
Experimenting
You become a guinea pig and participate in some surprising tasting experiments. What happens when you change the color, the texture or the aroma of a food? It changes our perception and totally confuses our brain and our ... taste.
Behaving
The banquet, in France, is a strong and savory event which mixes the gustatory pleasure and social interaction. In this space you will attend a show that honors a world where the menu imagined by the chef Thierry Marx and the scientist Raphaël Haumont will astonish you. Does this meeting around the table exist in all cultures?
This exhibition is proposed in three languages: French, English, Spanish.
It is produced in scientific partnership with the National Research Institute for Agriculture, Food and the Environment (INRAE).
Buy my ticket
If you come as a family, discover the two animations for children: cite des enfants!
Take a look at the permanent exhibitions or take a walk in the park.