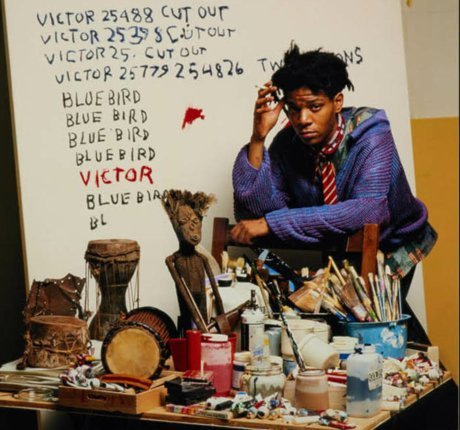 The Philharmonie de Paris hosts an exhibition on Basquiat and his relationship to music. Basquiat Soundtracks is constructed as a soundtrack to Jean-Michel Basquiat's work from Beethoven to Madonna, from Zydeco to John Cage, from Louis Armstrong to the Zulu Nation.
Basquiat began his career in New York's artistic industry of the late 70s at the time of the emergence of two musical currents : No wave and Hip-Hop. This period was marked by multidisciplinarity, Basquiat himself was a poet, stylist, sculptor, painter and musician. Unofficial leader of Gray, he begins his artistic career in the heart of the no wave movement in the downtown clubs where artists of the punk culture mingled while rethinking their way of practicing art.
At the same time, Basquiat discovered hip-hop culture, a cultural revolution in terms of music, dance and visual arts. He became involved in the hip hop community and produced the rap single Beat Bop by the group Rammellzee in 1983.
Basquiat's paintings are also influenced by jazz and New York's black cultural and artistic heritage.
The exhibition shows about 100 works and offers an immersion into the artist's world. This journey into the places and sounds that influenced Jean-Michel Basquiat is facilitated by a bold scenography. Rare archives, instruments and audiovisual documents are also on display.
The Philharmonie offers a concert program around the Basquiat exhibition with American trumpeter Ambrose Akinmusire, saxophonist James Brandon Lewis and poet Thomas Sayers Ellis, rapper Yasiin Bey (aka Mos Def), pianist Chassol, and the Orchestre de Paris playing Beethoven's Symphony No. 3 "Eroica "...
If you're interested by hip-hop and afro-culture make sure to check out the tribute exhibition to Fela Anikulapo-Kuti.
Related: Exhibition Cinetique ! Sculpture in motion at the Espace Monte-Cristo. Check Julie Sas' exhibition the Artificial kid about self surveillance, story telling and knowing one another.
BASQUIAT SOUNDTRACKS 2023 exhibition ticket