Each year, festivals of all kinds and styles offer a dense and eclectic programme to the inhabitants of Seine-Saint-Denis and the region Ile-de-France. Save the date!
March-April: Banlieues Bleues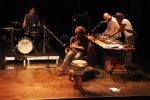 Banlieues Bleues is the unmissable rendezvous' of French Jazz. The festival takes place in spring, in several cities throughout Seine-Saint-Denis and at Dynamo, the concert venue for Banlieues Bleues. Besides the concerts, the festival also proposes other cinematographic screenings, conferences, and meetings with the different jazz' artists. Mention might also be made of the participation of Cristina Zavalloni, Omara Portuondo, Nathalie Natiembé, Erik Truffaz, Vincent Ségal, Archie Sheep, David Murray... Related : jazz music in Paris.
March-April: Hors Limite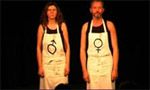 Hors Limite festival will be held in the many libraries in Seine-Saint-Denis. This literature-based festival mixes text and music, image, dance, art and many other elements to the delight of big and small.
May-June: Les Impromptus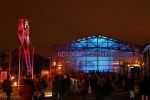 The Académie Fratellini theatre hosts the festival Impromptus, a festival of circus art with more than fifty performing artists. In 2009, Académie Fratellini welcomed artists such as : Colporteurs, Compagnie XY, and Les Studios cirque de Marseille (Pierrot Bidon), Catherine Cabrol or even Serge Meyer.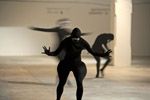 "Rencontres chorégraphiques internationals" is an absolute international choreographer's laboratory for dancers and choreographers from all around the world. From these exchanges arise original shows' confusing the spectators, diverting them, affecting their perception on the world and our time.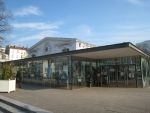 This festival will be held in Pantin and other associated cinemas. Côté Court presents a large selection of short films in order to give a chance to young film makers to reveal new forms of cinematographic films. Besides the films in competition, this festival proposes a complete retrospective (sometimes more than 100 movies) on an author, a film style or a foreign cinematographic session, script readings, and a programme for young public.

For more than 30 years now, Saint-Denis festival proposes classical concerts, symphonies and choirs, baroque concerts at the Basilica of St-Denis each year, as well as recitals and chamber music at Maison de la Légion d'Honneur, traditional music concerts and world music and evening parties under the big top "Magic" set up in the city centre.
June: Jazz musette des Puces
Saint-Ouen flea market renews with the tradition of jazz musette and swing to the rhythm of concerts in cafés, streets and the big stage for a week-end. Illustrious singers and musicians have already performed at this festival: Thomas Dutronc, Didier Lockwood, Yvan Le Bolloch, Ninine Garcia...
July: Days Off Pop Rock at La Philharmonie
Days Off, is 2 weeks of pop rock concerts with international headliners in the exceptional venue Philharmonie Paris.
Dance balls, concerts, cruises, festivities, Été du Canal animates summer week-ends in Paris around Canal de l'Ourcq. Free open-air festivities and entertainment for the whole family.
September: Fête de l'Humanité festival
Fête de l'Humanité Paris, also known as Fête de l'Huma, is an event organized annually by the L'Humanité' newspaper at Parc départemental de la Courneuve. It is a political event where the French Communist Party and related associations are highly represented. Besides the political aspects and activities, the Festival puts on many concerts.
September: Jazz at la Villette
Jazz at la Villette each year explores continents or other world regions where Jazz music thrives. Each year, Jazz at la Villette is a prolongation of previous editions that strives to cross the different genres..
October: encounters of documentary film festival
The documentary film festival in Montreuil is held each year at Cinéma Le Méliès in Montreuil. This festival shows many films and movie-previews and gives the public the chance to meet the documentary film directors.
October-November: Villes des musiques du monde festival
Each city proposes concerts of different styles each year without hesitating to switch from rock to rap, or classical. This nonstandard and convivial festival does not hesitate to mix styles and world music to make every event an invitation to travel!
The festival Africolor invites the spectator to vibrate to the sounds of this emblematic music festival, music from Réunion island or from Mali, and to discover artists from South Africa, Kabylie, Ethiopia, Mauritania, Guinea, Burkina Faso, exploring the depths of their traditions combining their skills to those of the musicians inspired by other musical worlds: jazz, polyphony, slam, blues or Basque txalaparta... All the rhythms of Africa will be programmed from the traditional Gnawa of Marocco with an atmosphere of the townships of Johannesburg or, from the player of the wooden xylophone Burkinabé Balaphon to the singer of Sega Maloya songs Reunion Island.
National holidays in Seine-Saint-Denis
La Fête de la Musique
Put in place in France by Jack Lang when he was the Minister of culture, the first edition was held on 21st June 1982 but was declared official on 21st June 1983. It is held generally in the evening or at night to the next day.
National Holiday 14th July 
Celebrated only from 1880, and put in place by Lafayette, the National Holiday on 14th July, commemorates the Fête de la Fédération a celebration of 1790 corresponding to the first anniversary of Bastille Day. Every year, French cities organize famous dance balls called Bal des Pompiers and put on firework displays in the evening.
Heritage Days
Heritage Days is an annual event where companies, museums, monuments, etc. open their doors to everyone for free.