Are you finding it difficult to do something original on Valentine's Day 2020 ? Don't worry we have loads of suggestions for you.
Ideas of activities for people in love on February, 14th, 2020
You'll find suggestions and ideas to enjoy an original Valentine's day in the Parisian region : participate to a café-philo or take a look to our list of ideas for a romantic dinner, in one of the gastronomic restaurants. You can also buy an original gift for your Valentine. Restaurant, dinner cruise in Paris, cinema, unusual outings... take your pick!
1. Book a table at a special restaurant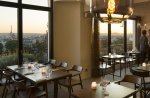 On this special day of celebration, love and friendship, your Valentine will be thrilled by an invitation to one of the best restaurants of North-East Paris.
You can also book a typical and authentic restaurant like the famous Ma Cocotte and other restaurants of the Flea Market or restaurants that has a panoramic view on Paris
2. A lovely night in a special hotel
For one night, you can also add a touch of luxury!
After the restaurant take your other half to a luxury hotel. Many high range hotels offer great deal options for Feburary the 14th to spend a night in a 4 or 5-star luxury hotel room (by the way: most establishments of this standing offer good deals in their own restaurant).
3. Love Boat...A romantic cruise in Paris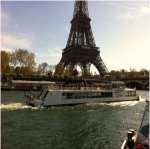 Come and dance or simply relax listening to music at one of the restaurant along Canal de l'Ourcq as the restaurant "Chez Agnès" in Pantin.
Contact our partners such as the companies Paris Canal, Canauxrama to prepare your romantic day or evening.
4. Unusual Gifts for Valentine's Day
And why not offer a gift which is a bit "out of the ordinary" during your evening, a gift that can be used at another date?
Give a mysterious envelope with an invitation for a tattoo with one of the best tattoo artists at the next World Tattoo convention of Paris la Villette!
Anticipate: go to the Salon Art Deco fair of La Villette between the 5th and the 8th of March 2020
Eroticism trade show (March 2020)
Write a message that will pass on the light signs of your city all day. Le Pré Saint Gervais and Epinay sur Seine propose this. For the second you have 120 characters to tell your love on the website or on twitter #14fevrierESS
5. Opt for a fashion tour
Offer a new fashion experience to your fashionista lover: discover how fashion evolved by visiting the Flea Market and bargaining the most original presents ever! If you prefer contemporary clothes, you can go to the Millénaire mall by boat: pass by the lock of the Pont de Flandres next to the Corentin Cariou metro station then get on the free boat that goes directly to the shopping center which is a good place to have a fashion evening and a dinner along the Saint Denis canal. Check there if you want more ideas for shopping outings.
6. Visit Paris hand by hand
Discover city of love through a new lens by testing insolit walking tours of Paris such as ciné-balade, black culture tours, street art tours...
7. Enjoy a Show together
Choose from the range of outings proposed on the 14th of Feburary 2020: theater, exhibitions, concerts, dancing shows... You'll find what you want.
The Philharmonie also proposes one concert on this special day: "Written On Skin" (Music George Benjamin).
8. A movie together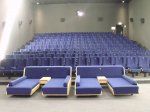 What's a better idea than going to watch a movie with the love of your heart on Valentine's Day? You'll find loads of small cinema houses with arthouse cinema,  uncommon programmes and films in the original version or simply enjoy the latest film released on the occasion of Saint Valentin.
To be amazed by a 3D or an Imax film, go to the cinema Gaumont-Pathé of Vill'up. You can also check out the cinema Étoile located at Porte des Lilas or go to the Besson Europacorp cinema within Aéroville mall and sit down in top quality seats.
9. Do sport together
Try to run as a couple in the Saint-Valentin race of Paris in the Buttes-Chaumont. Singles can also participate to the "Cupid operation".
10. Book a romantic dinner in Paris for Valentine's day
Do a simple romantic and cocooning dinner at home: Get prepared by visiting the Parisian big fairs of inside decoration: Maison & Objets and Art & Decoration at La Villette will take place between March the 5th and the 8th.
To have all you need at home, go to the Cave est restaurant located in Montreuil before going home and come back with the best bottle of wine to be consumed with moderation to spend a romantic evening.
You can also stop at Cash & Carry or the Winerie Parisienne which opened in Montreuil in 2016.