Festive and music cruises
Come and party on a boat ! Our music cruises will take you on a trip to discover the charm of the canal de l'Ourcq to the beat of blues, electronic or world music. There are plenty of activities, one more delectable than the other in the programme, with apero cruises, themed evenings of entertainment and concerts. A festive programme full of surprises and popular guests !
A live concert or DJ set on a boat
Come and hear one of our concerts on water ! Take a trip on the canal de l'Ourcq and enjoy a live concert or DJ set.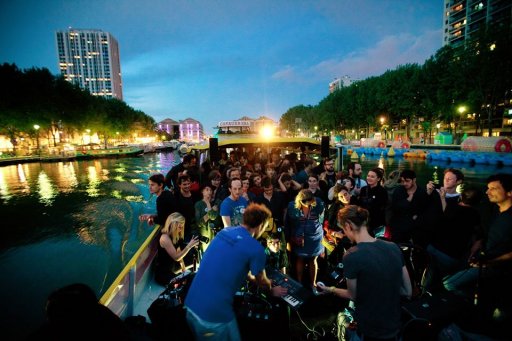 Find our programme of concerts all summer long.
Calendar of festive cruises
Saturday 2nd July at 4pm and 8.30pm – Festive cruise collective group "Bon Esprit and La rotonde"
Bar, DJs sets and excursion on a boat : take off for a festive cruise on the canal de l'Ourcq. A stop at the site of the former customs buildings in Pantin, the future BETC (advertising company) is scheduled. The brasserie run by « La Bellevilloise » awaits you.
 
Sunday 3rd July 2016 at 7pm – Music cruise Rhizomes
Sail to the rhythm of music with the trio Lacaile èk Marmaille and Jean-Didier Hoareau, Danyel Waro's nephew, and discover the sega and maloya dances from the Indian ocean. Organised by the Rhizomes festival.
Date and time to come – Fashion and champagne cruise
A fashion show on the concept of « regenerated fashion », silkscreen printing and jewellery workshops, music, local produce and organic champagne. Organised by Madame Chat, a designer from Montreuil town. Leaves from Bassin de la Villette.
Book your Paris guided tour