This summer, canal de l'Ourcq will be the central place for temporary festivities. Making good use of some wastelands, architects and music lovers will set up furniture equipent, stage and refreshments bars to guarantee superb festive moments and all this for free ! There will be open-air parties but also workshops for young people, picnics, dance battle contests… the programme is rich in diversity and participation is free.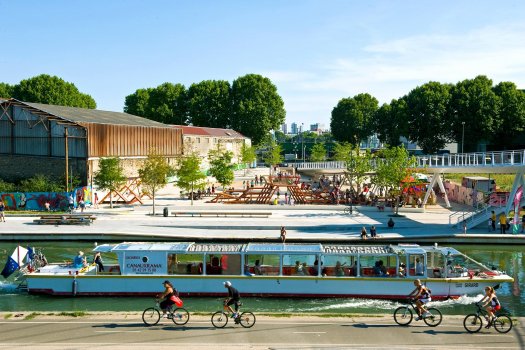 Bobigny leisure port, "Summer on the canal festival 2015" © Xavier Testelin
Le port de  loisirs (Leisure port)
An immense installation on the Bobigny riverbanks
For a third consecutive year, the temporary Port de loisirs is set up in Bobigny on the banks of canal de l'Ourcq, opposite the Parc de la Bergère. This vast redeveloped space on the banks of the canal de l'Ourcq in Bobigny, straddling the parc de la Bergère, Miko wasteland and new town developments stretch out over 50,000 m².
In 2017, from 8th July to 27th August, festivities will be on each weekend, day and night : guinguettes, dance balls, dance classes, concerts, DJ sets, shows… and workshops for all. Stands, foodtrucks and refreshment bars (BBQ, street food, local bars…) all will be at the visitor's disposal.
A glance at the summer programme 2017
Saturday 8th July : Opening ceremony of Port de loisirs with Soukmachines (concerts, DJ set)
Sunday 9th July : Rhizomes festival with the Jardins Extraordinaires
Saturday 15th July : Petit Bain moves its "Summer of Love" to Bobigny
Sunday 16th July : to be confirmed
Saturday 22nd July : Bon Esprit will propose a selection of HipHop
Sunday 23rd July : Picnic party
Saturday 29th July : Surprise party
Sunday 30th July : La Baronne will make Bobigny swing (dance ball)
Weekend of 5th and 6th August : Week-end electro with La Mamie's and Craki Records
Saturday 12th August : the group 75021… electro for everyone
Sunday 13th August : Music and workshops with Petit Bain, "Summer of Love" bis
Saturday 19th August : Soleil Nord-Est, Soukmachines festival
Sunday 20th August : Battle 2 dance Hip Hop contest with La Manufacture 111
Saturday 26th August : Closing ceremony with Soukmachines 
Sunday 27th August : Bunker Events will host the last summer event
Hosted all summer long by Seine-Saint-Tourism in partnership with several cultural players in the department, Port de loisirs, a temporary set up in Bobigny is a logical continuation of an event launched by Est-Ensemble, in association with the developer Séquano Aménagement, to highlight and promote the area Plaine de l'Ourcq.
La Halle Papin, a former factory, derelict for several years now and  measuring 2,300 m² , has been taken over by the group Soukmachines. Festivities, major events but also exhibitions and workshops will be held here all summer long.
La Station, a former mining station near the ring road, hosts a summer musical stage and the group Mu. Every week-end, groups, record labels and music groups will take turns in the spaces developed outside for the occasion.
laPlage is back once again to Glazart with a new programme of concerts, showcases, clubbing… all in the open-air until the early hours. Every summer, a concert hall is set up outside covered with 50 tons of sand with special facilities making it the first open-air club in Paris.