Set out to conquer Canal de l'Ourcq and Saint Denis Canal in an original way ! Discover the parisian canal differently this summer: bike and pedalo rentals are now available!
Discover the Ourcq by boat and bike
Soft traffic continues to take center stage. After COP21's spotlight on the urgent need to reduce greenhouse gas emissions in 2015, L'Été du Canal continues to focus on soft mobility.
Discover the Ourcq canal on a bike ride along the Ourcq from Paris to the Parc de la Poudrerie in Sevran, followed by a guided tour of the park or a guided tour of the Poudres et Forêts exhibition.
A cycle path along the banks of the Ourcq allows you to enjoy long bike rides and discover the diversity of the canal's landscapes. Several bike rental companies offer their services along the Ourcq Canal, close to the cycle paths. Here are some free itineraries that you can also follow on your own: from Paris and from Sevran
Bicycle tours of the Canal Saint-Denis
Discover the little-known Canal Saint-Denis. Bicycle tours are available along the banks of the Canal Saint-Denis. In summer, you can admire the urban art frescoes created as part of Street Art Avenue.
Bicycle rental
Rent a city bike, VTC, tandem or children's bike in Paris
From Tuesday to Sunday, go to AICV (Animation Insertion Culture Vélo) to rent a bike. This Paris-based facility lets you rent your bike and take advantage of the beautiful bike path that runs along the canal for almost 40 km.
Parents and children can rent their VTCs, city bikes, tandems and all the accessories you need for safety, for a few hours or a day, from AICV.
Once equipped, set off to discover the canal on a cycling trip along the greenway from Paris to London, or on one of our cycle routes along the Ourcq.
Prices for bike rental and accessories (2023)
VTC rental: 1h = 4 euros; half-day = 10 euros; full day = 15 euros
Children's bike hire: half-day = 8 euros; full day = 10 euros
Tandem bike hire: 1h = 6 euros, half day = 15 euros; full day = 25 euros
Baby carrier rental: 2 euros per day
Trailer rental: Half-day = 8 euros, full day = 12¤ 
All year round, AICV offers training courses and refresher courses (for adults and children) to help you learn how to ride in urban areas and the safety rules involved in cycling. AICV also offers bike repair, recycling and sales services.
Rent a bike at the foot of the RER station in Villepinte, a stone's throw from Parc de la Poudrerie
From the RER B station at Vert Galant (Villepinte), it's now possible to rent bicycles and discover the bucolic landscape of the canal and the magnificent Poudrerie forest park. Bike rentals are available on Saturdays from 8am to 8pm and on Sundays from 10:30am to 6:30pm at the Vert Galant RER station, Place de la Gare - 93420 Villepinte.
Go directly to the RER station to check times and prices, but you can also book by e-mail vertgalant.villepinte@orange.fr or by telephone: 01 48 65 79 14. Please bring proof of identity, proof of address less than 3 months old and a deposit cheque for ¤250. Vivons Vélo partner.
Rates for short- and long-term bike rentals
Short-term rentals: 1h = 1¤, 1 half-day (4h) = 3¤, 1 day (8h) = 5¤, 2 days = 8¤.
Long-term: 1 week = ¤10, 1 month = ¤20, 3 months = ¤45, 12 months = ¤130
Please bring identification, proof of address and a deposit cheque.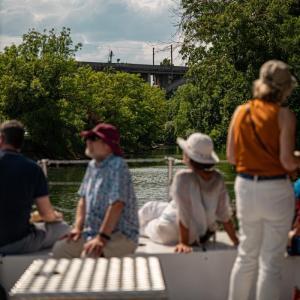 Rent a bike at Parc de la Bergère with the association Libres et Gonflé(E)s!
Every Saturday and Sunday, from 2:00 pm to 6:00 pm for bike rentals. Sunday mornings at 9.30am and 11.30am for bike school (dates are not set during the week).
Contact: Patricia Billoir - 06 95 04 18 01 - l-et-g93@orange.fr